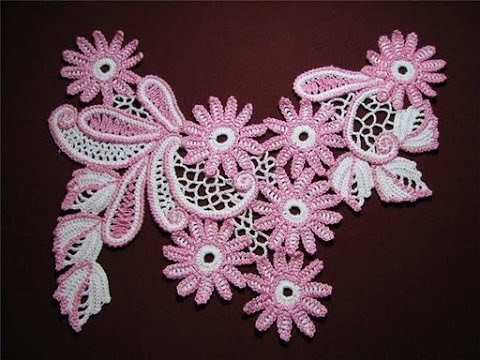 Мастера Ирландского Кружева - видео. Посмотрите примеры выполненных работ, зарядитесь желанием самостоятельно изготовить изделие в данной технике. Для этого необходимо выполнить единичные элементы кружева, а затем их соединить сеткой в виде цепочек. Мотивами могут быть цветы, листья, завитки, ягоды, грибы. Работа принесет вам радость, удовлетворение и желание творить. Будьте творческим человеком, экспериментируйте, создавайте свои произведения искусства! будьте уникальны!
Masters of Irish Lace - video. See examples of work performed, recharge your own desire to make a product in this technique. To do this, individual elements of lace, and then connect them to the grid in the form of chains. The motives can be flowers, leaves, tendrils, berries, mushrooms. The work will bring you joy, satisfaction and desire to create. Be creative person, experiment, create your own work of art! Be unique!
Masters of Irish Lace - Video. Siehe Beispiele der durchgeführten Arbeiten, laden Sie Ihre eigenen Wunsch, ein Produkt in dieser Technik zu machen. Diese können einzelne Elemente der Spitze zu tun, und sie dann in Form von Ketten an das Netz angeschlossen werden. Die Motive können Blumen, Blätter, Ranken, Beeren und Pilze sein. Die Arbeit bringt Ihnen Freude, Zufriedenheit und den Wunsch zu erstellen. Seien Sie kreativ Person, experimentieren, erstellen Sie Ihre eigenen Kunstwerk ! Seien Sie einzigartig!
Masters of Irish Lace - video. Vedi gli esempi del lavoro svolto, ricaricare il proprio desiderio di fare un prodotto di questa tecnica. Per fare questo, singoli elementi di pizzo, e poi collegarli alla rete in forma di catene. I motivi possono essere fiori, foglie, viticci, bacche, funghi. Il lavoro vi porterà gioia, soddisfazione e voglia di creare. Essere creativo, sperimentare, creare la propria opera d'arte! Essere unico!
Masters of Irish Lace - vidéo. Voir des exemples de travaux réalisés, rechargez votre propre désir de faire un produit dans cette technique. Pour ce faire, des éléments individuels de la dentelle faire, puis les connecter à la grille sous la forme de chaînes. Les motifs peuvent être des fleurs, des feuilles, des vrilles, des baies, des champignons. Le travail vous apportera la joie, la satisfaction et le désir de créer. Soyez créatif, expérimenter, créer votre propre œuvre d'art! Soyez unique!