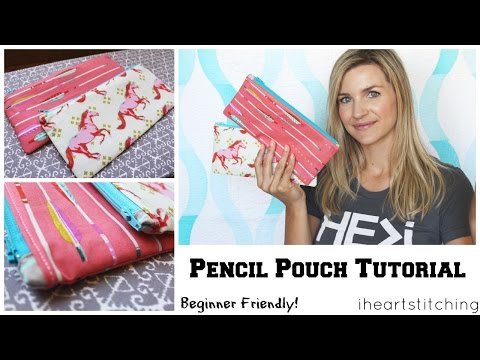 Thank you for Watching, don't forget to subscribe for weekly videos!

blog http://melaniekham.com/pencil-pouch-v...

Facebook: https://www.facebook.com/melaniehamde...
Twitter: https://twitter.com/#!/melanieham
Pinterest: http://pinterest.com/melanieham/
Instagram: http://instagram.com/melaniekham

This video shows you how to make this simple zippered pouch perfect for back to school supplies, an artist on the go, purse organization or many other things! This pouch utilizes zipper tabs to show you guys a new sewing technique.

Materials
9 inch zipper (the zipper tape measures about 10.5)
2 - Outside pieces cut to 10.5 x 5 inches
2 - Lining pieces cut to 10.5 x 5
2 - Medium weight sew-in Interfacing pieces to 10.5 x 5
2 - 2 x 2 inch squares of lining material for the zipper tab

Clover Clips can be found here
http://amzn.to/1qgAKSc

Flower Head Pins
http://amzn.to/1sc4hwI

Sign up for my newsletter Here!
http://mad.ly/signups/116423/join

Fabric is from Cotton and Steel
Mustang by Melody Miller
Moonlit by Rashida Coleman-Hale

*This contains affiliate links. It costs nothing for you, but each small percentage helps keep me in sewing supplies! THANK YOU for the support!!