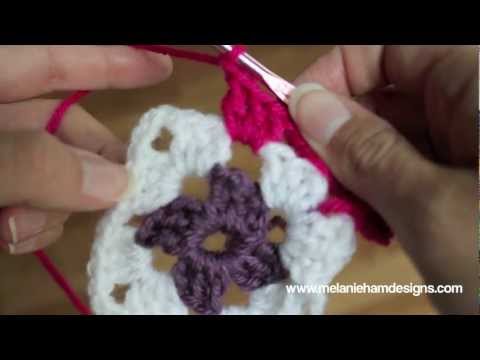 Subscribe for more great tutorials! http://bit.ly/MelanieHam
More simple crochet tutorials here! http://bit.ly/Crochettutorials

This video will show you how to crochet a traditional granny square, change out your colors, weave in your ends and attach 2 granny squares together.

Follow me on Social!
BLOG: http://www.melaniekham.com/
Etsy Shop: http://www.etsy.com/shop/melanieham
Facebook: http://www.facebook.com/melaniehamdes...
Twitter: https://twitter.com/#!/melanieham
Pinterest: http://pinterest.com/melanieham/
Instagram: http://followgram.me/melaniekham/

Get a FREE Crochet Pattern when you sign up for my Newsletter!
http://mad.ly/signups/124360/join

I used Vanna's Choice size 4 worsted weight yarn and a size 7 or 4.5 mm hook. Vanna's choice recommends a 6mm or J hook, so any size in that range will work.

pattern for the granny square
Ch 6 and slip stitch to form a ring
3 ch (for 1st dc) 2dc 3ch in ring *3dc 3ch three times (finish with 4 groups of 3dc)
slip stitch to top of 3rd chain (you now have a square)
Start in a corner, 3ch 2dc, 3ch, 3dc (creates the corner)
1ch and continue to the corners with 1ch in between
Start again in a corner, this time placing 3dc in the open spaces between the corners, always with 1ch between each cluster. Reapeat until desired square size.